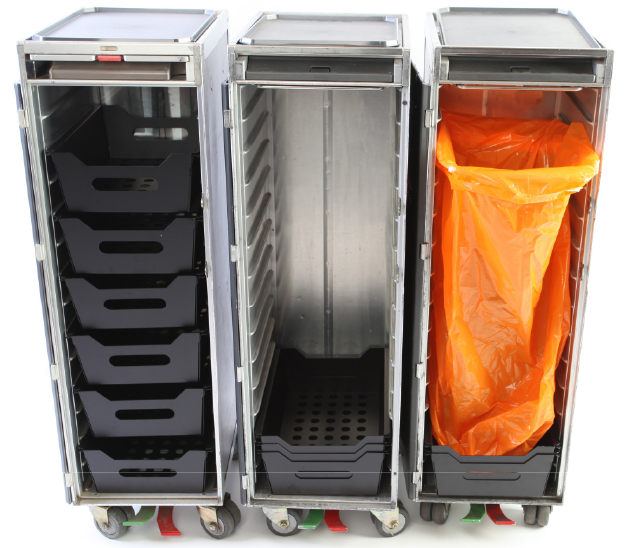 Flex-e-bag is an innovative patented new product designed by Mediplast to manage airline catering waste collection. Mediplast have designed Flex-e-bag to simultaneously overcome and utilise the economy of space available on airlines for on board catering. Flex-e-bag is the ideal solution for handling airline catering waste collection from food service trolleys.
Incorporating multifunctional design components Flex-e-bag is a natural companion to any airline food service trolley. Its simplicity of design is the dynamic of its function making waste collection from onboard catering much more efficient and hygienic.
Flex-e-bag is a 40 gram, 80 litre plastic bag fitted with a plastic snap to clasp collar that fits snugly and securely onto the tray runners of any airline food service trolley with our easy to use attachment, instantly converting it into an airline catering waste collection cart.

The positioning of the Flex-e-bag does not inhibit the use of the food trolley in any way. It enables the trolley user to efficiently perform the task of airline catering waste collection. The sealing mechanism when fully opened sits perfectly on the inner slide rails which offers a large opening for easy airline catering waste collection and tray clearance.
When full, the bag is easily removed and closed with the simple snap-to clasp collar which allows for hygienic storage pending permanent disposal. There is also provision for additional sealing with a security tag.
Flex-e-bag from Mediplast offers tremendous versatility and functional efficiency for airline catering waste collection from onboard catering in the airline industry. Their ease of use is matched by their ease of storage, the Flex-e-bag is easily stored in Atlas drawers or overhead lockers prior to use.
The instructional videos above amply demonstrate just how easy and efficiently Flex-e-bag is used and performs when dealing with airline catering waste collection from food service trolleys.
Stackable and Nestable Flex-e-Drawers
Our Flex-e-Drawer is a newly designed product in our range. This product fills a gap in the market as recently identified by a number of major airlines. Standard Atlas drawers are currently replaced into meal carts after use as there is nowhere else on board to stack them. Our aim was to make a stackable and nestable drawer that frees up trolley space on board when the sandwich or drink service has finished.
Six Flex-e-Drawers fit a standard Atlas cart and can be stacked at the bottom of the cart when the food has been distributed. A Flex-e-Bag can then be used to collect waste in the same cart or the cart can be used for additional inflight sales.
The Flex-e-Drawer has air venting holes to assist with chilling food and drink ensuring all of the drawers will be chilled instead of just the top drawers when using the standard Atlas drawers.
Flex-e-Drawers are nestable to facilitate easy filling of the carts in the flight kitchens.
Flex-e-Drawers require considerably less warehousing space as they can be stacked when not in use.
These Flex-e-Drawers are robust and versatile