Mediplast Butane Portable Debudder
Mediplast is a world-leading designer and manufacturer of portable debudders for dehorning cattle. Our products are designed to be user friendly and self-serviceable by the end user. This latest model of the Mediplast Portable Debudder is the ideal tool for dehorning cattle and goats.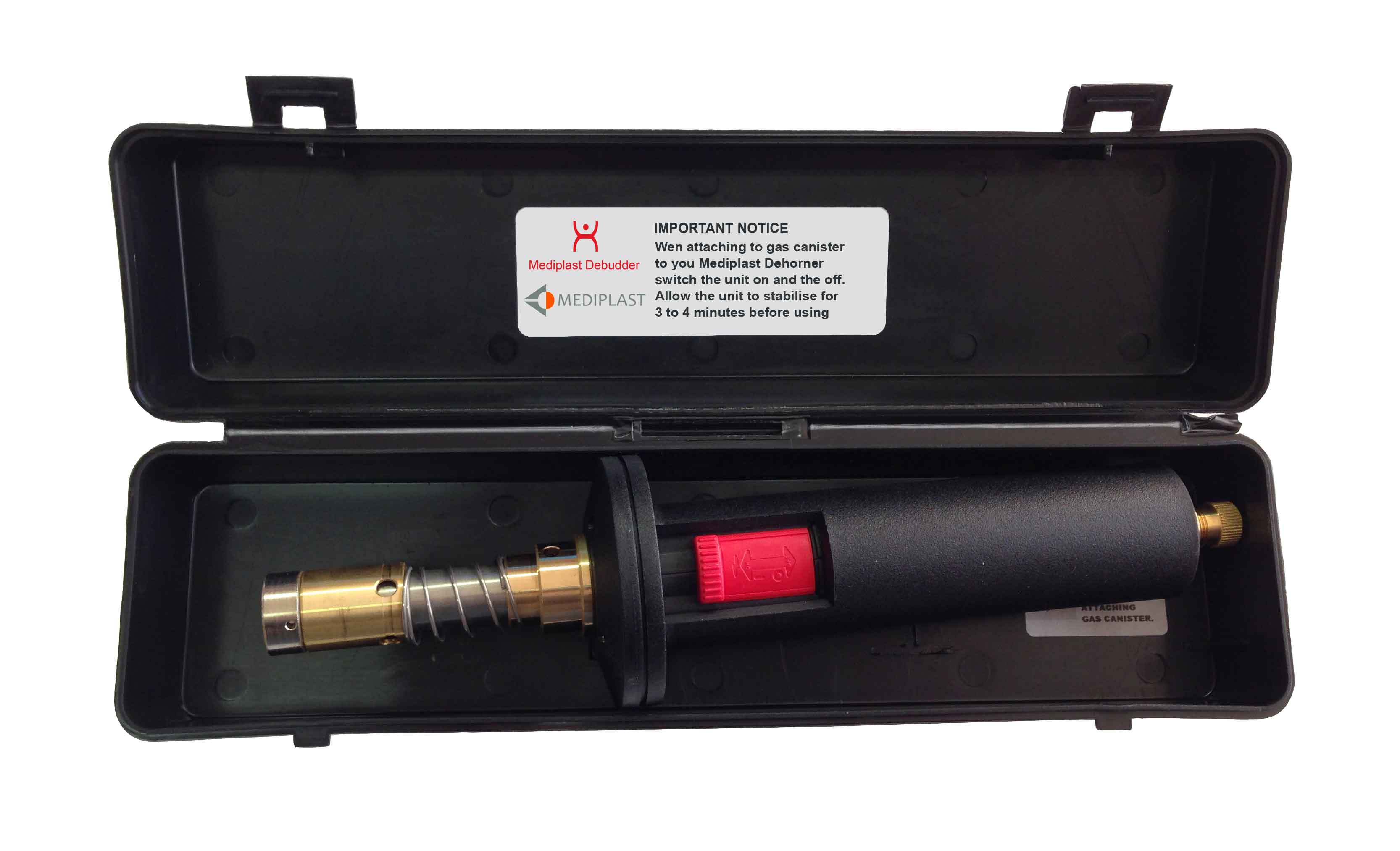 Specifications of the Mediplast Portable Disbudder
Universal Gas Canister Butane /Propane (70 / 30)
Temperature adjustable to 700°C.
Disbudder Head will not deform at higher temperature.
Piezo Ignition.
Gas canister lasts up to 10 hours. (210 g)
Fully portable.
CPSC Compliant.
Replaceable Heads / Nozzle / Venturi assembly.
Horned cattle are a major management problem on any farm, posing injury risks for both handlers and other stock. Dehorning cattle has benefits for both farmers and their cattle. Dehorned cattle are far easier to handle and transport, and command higher prices at auction than animals with horns.
Removing the pre-emergent horn is the most humane and efficient way to eliminate horn tissue in calves. This method of dehorning cattle both kills horn growth and controls bleeding by cauterising the blood vessels while minimising the risks of potential of infection.
Designed for and by farmers and vets, the Mediplast Portable Debudder offers maximum flexibility to the user by making dehorning cattle possible anywhere in the field, enclosure or barn.
The instruction videos below demonstrate in simple terms how simple and user friendly the Mediplast Portable Debudder is. From basic set up to maintenance and storage the flexibility and scope of the Mediplast Portable Debudder is clearly outlined.

| | |
| --- | --- |
| Item Name/Service | Total |
| Mediplast disbudder | €130.00 |
| Disbudder full service | €65.00 |
For Disbudders Services Please Send Your Disbudder To: Mediplast disbudder service engineer, Kille, Shrule, Co.Mayo H91 PVF6
Our debudder products can be purchased online though our PayPal account
Getting Started
Getting started with your Mediplast Debudder
Debudder Maintenance
Cleaning and maintaining your Mediplast Debudder for optimum performance
Store Debudder
Cleaning and storing your debudder end of season
Old Model Debudder Maintenance
Maintaining your old model Vulkan debudder for optimum performance.